7 modern homes to inspire your next build
According to history, modern architecture originated in Europe and moved to other parts of the world, including the US across the pond, during early and mid-20th century. This design style gained popularity after the 2nd world war, most notably by architects who embraced modern materials and wanted to do something different from the more traditional styles at the time. 
It's no secret that the modern style has continued to wow nearly a century later, with multiple homes, offices, shopping malls, and other structures worldwide flaunting this design. But what are the characteristics that one can notice when viewing a modern-style structure?
• Modern building materials dominate: Steel, concrete, wood, and glass are the four most prominent materials used in modern design. In addition, modern architecture also shies away from ornate surfaces and brings justice to these four materials by not plastering them with some other artificial covering. Glass, in particular, stands out in modern structures, especially modern homes that, to this day, continue to flaunt large glass windows and doors, sometimes even glazed ceilings.  
• A simplistic look: Like the minimalist style, the modern design believes that less is more and focuses on clean spaces and the absence of elaborate embellishments instead. 
• Clean and crisp lines:The elements of modern buildings become more prominent due to their strong horizontal and vertical lines. Curvy designs are seldom found in modern styles and are more popular with contemporary spaces.  
• Low, flat roofs:The flat roofs enhance the horizontal lines of the modern building.
• Neutral colors:Neutral and earthy tones abound in modern design, becoming very effective as these palettes help to make the spaces and surfaces appear bigger and more open. 
• Wide, open interior spaces: Modern architecture teaches us that open-plan layouts usually dominate the social spaces of the house, such as the kitchen, dining room, and living area. Modern living spaces are not defined by hallways or walls in the majority of cases, and instead rely on interior decoration to visually separate these different zones (such as different colored rugs, furniture pieces, different lighting fixtures, etc.).
To get you to fall in love with the modern design all over again, plus perhaps inspire you for your modern-style dream home, let's take a look at seven prominent modern homes in our homify collection.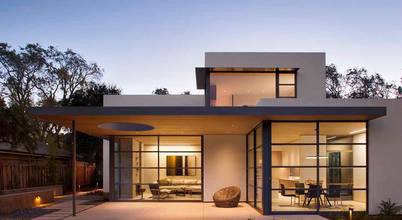 Video of 7 modern homes to inspire your next build
Tags: 7 Modern Homes To Inspire Your Next Build
10 Beautiful Korean Houses To Inspire Your Next Build
6th Annual Denver Modern Home Tour Showcases Seven Area Homes
Inspirational Modern House Images Collection
Minecraft House Design
Southern Country Mansion
Is My Modern House... Bland?
7 Rooftop Deck And Terrace Designs For Your Next
7 Wardrobe Design Ideas To Inspire Your Next Home Reno
65 Stunning Contemporary Bathroom Design Ideas To Inspire
7X7 MODERN STARTER HOUSE TUTORIAL
Modern Home – Minecraft House Design
Creating A Mood Board To Inspire Your Next Home Project
Live Your JP Lifestyle At The Heart
Ultra Modern Millions Dollar Luxury Home For Sale Seven
A Modern Concept Mansion – Minecraft House Design
30 Magical Wood Cabins To Inspire Your Next Off-The-Grid Vacay
Modern Architecture Exterior Homes
Expressive Brazilian Architecture To Inspire Your Next
7 Eco Houses To Inspire An Energy Efficient Self Build
7 Inspirational Conservatory Ideas To Make Your New Room A
Mansion – Minecraft Building Inc
LUMION 8 Pro Render Modern House#3
Minecraft House Tutorial: 7x7 Modern House
Roblox: Welcome To Bloxburg
Tony And Sheila Shelford Wanted To Build A New Home On A
7 Bedroom Designs To Inspire Your Next Favorite Style
Modern Beach House 2 – Minecraft House Design
Modern Cottage Part 1
28 Inspirational Architecture Quotes By Famous Architects
Inspirational Buildings
Loft Conversions: An Essential Guide To Planning
Minecraft: 8X8 Modern House Tutorial
Modern Home Design By Phil Kean In Jacksonville, Florida
Laguna Beach Mansion Laguna Beach California, Pictures Of
Modern Mansion – Minecraft Building Inc
Home Extension Ideas: 10 Looks To Inspire Your Renovation
Superb Symmetrical Minimalist Modern Luxury House In
Prefab Backyard Guest House Inspirational Offices Studios
House Plans With Simple Roof Designs Ultra Modern Two
Garbage Homes
20 Dream Backyards For Your Ideal Home
Modern Bungalow- Speed Build - YouTube
Minecraft Building Inc
Building The Courthouse And New Editions
A Two Story Floor Plan By Rodrock Homes
Simple And Minimalist Shipping Container Home Design Plan
Seven Capital To Build £150m Of New City Homes
47 Raspberry Pi Projects You Can Build At Home
How To Build A POPSICLE STICK HOUSE!!